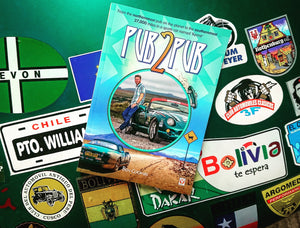 You've read about the expedition online - now read about it in full, with a signed copy of the official book of the Pub2Pub Expedition, published by Veloce Publishing and containing 240 pages of TVR/travel goodness, along with several sections of full-colour photos.  Here are some of the reviews the book has received so far:
'Combining a 25-country road trip, two pubs and an unreliable British sports car was always going to be a recipe for an interesting read. This book charts Coomb's journey from the world's northernmost to southernmost outs in a TVR Chimaera. It's exciting, funny and in places very deep. An inspirational read.' --Auto Express

'It is a tale of how you really can make your dream come true, whatever the odds.' --www.sihouet.com

'In many ways the car plays second fiddle to the fascinating snapshot of the life and culture of the countries that Coombs drove through, but it has to rate as one of the world's most epic road trip adventures.' --Classics Monthly
Here's the full description from the publishers:
There's popping out for a quick pint, and then there's this - a gloriously preposterous 27,000 mile journey across 25 countries to grab a beer in pubs (bars) at opposite ends of the world. We're talking an epic adventure, from an abandoned Soviet mine 700 miles from the North Pole, to a remote pub at South America's southernmost tip. A journey undertaken in a TVR sports car, a car that many might consider untrustworthy just to drive to the shops. The journey packed a lot into its eight months. From braving the sheer drops of Bolivia s Death Road, to drag racing the locals in Texas. From roaring across flooded salt flats, to sailing the straits of Magellan. From the highs of the planet's best driving roads, to the lows of life in No-Man's-Land, trapped between borders by red tape and bureaucracy. And from looking out for Polar Bears in the High Arctic, to dodging penguins in Tierra del Fuego. The story of the Pub2Pub Expedition is an inspirational account of where your dreams can take you if only you believe in them. Chronicling the epic journey made by Ben Coombs in his TVR Chimaera, this book is both an exciting adventure and a fascinating snapshot of the life and culture of the countries that he drove through.