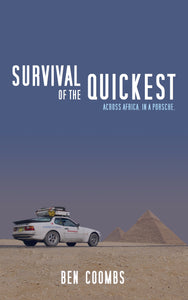 Before the Pub2Pub Expedition, there was AfricanPorsche - a journey across Africa in a classic Porsche.  And while the book about the Pub2Pub Expedition won't be out until May 2019, the book describing the Africa trip is already available.  Here's the description:
"...as satisfying and moving as a good novel." - Classic Cars Magazine

"...a highly recommended read for any Porsche or travel fan." - PurelyPorsche

Survival of the Quickest - Across Africa. In a Porsche.  15,000 miles. 26 countries. One unforgettable adventure.

In autumn 2008, Laura Reddin and Ben Coombs set off to drive from England to South Africa in a classic Porsche 944. No such journey had ever been made before, and everyone said it was impossible. They said the two young adventurers would end up broken down in the middle of some baking desert, or be robbed at knifepoint. They were right on both counts. But what they couldn't predict was that through the highs and the lows, the breakdowns and the bureaucracy, the red tape and the robberies, Laura and Ben would grow closer than they could imagine, and find romance amid Africa's epic vistas.

From the edgy streets of Syria to the rutted tracks of Kenya, via the war-torn sands of the Sudan, Survival of the Quickest is the first book to describe the absolute cutting edge of adventurous road trips in gritty, honest detail. At turns inspiring, absorbing and thought-provoking, it shows just what can be achieved with a tough old car, a well-worn passport and a whole heap of determination.
The book has been available through Amazon.co.uk for a few years now, and has gained a very respectable average of 4.7/5 stars, based on 36 customer reviews.  Now, we're making it available here too, though stocks will be low until mid December, when the next batch arrives.  If we're out of stock here, you can still get an unsigned copy on Amazon by clicking here.